This page contains affiliate links to Amazon. As an Amazon Associate I earn from qualifying purchases.
DJI series drones like an Inspire, Phantom, or Mavic have three standard flight modes that are available depending on the type of flight needed. This article will not discuss the intelligent flight modes (ActiveTrack, TapFly, Tripod,…). Being aware of the differences in these flight modes and how to switch to them can be important to every DJI drone owner.
Three Standard Flight Modes
P (Positioning) Mode

: This is the default mode. Positioning mode has GPS/GLONASS sensors enabled to hold the drones position to prevent it from drifting away. Obstacle sensors are enabled to prevent crashes.

S (Sport) Mode

: Sport mode can be also be thought of as speed mode because it increases the speed that the drone can fly. Phantom 4 series drones and the Mavic 2 can reach speeds up to 45 mph. The Inspire 2 can reach speeds up to 58 mph. In sport mode, the GPS/GLONASS sensors are enabled. However, the obstacle avoidance sensors are disabled which means it is important to be aware of how close you are to any objects.

A (Attitude) Mode

: Attitude mode is commonly referred to as Atti mode. In Atti mode the GPS/GLONASS sensors are disabled. Obstacle avoidance sensors are also disabled. This mode uses the barometer to maintain the altitude. It is sometimes useful to use Atti mode in enclosed areas because GPS/GLONASS can become confused and effect the flight negatively. Also, while flying in the other modes, if GPS/GLONASS signals are lost then the drone will go into Atti mode.
Steps To Enable Multiple Flight Modes
The following steps were written using the DJI Phantom 4 Pro V2. The other DJI drones like the Inspire or Mavic series will have the same or similar steps.
Open the DJI GO 4 app.
Tap the three dots on the upper right side.

3. From the side menu that displays, click the drone icon at the top left to display the Main Controller Settings screen.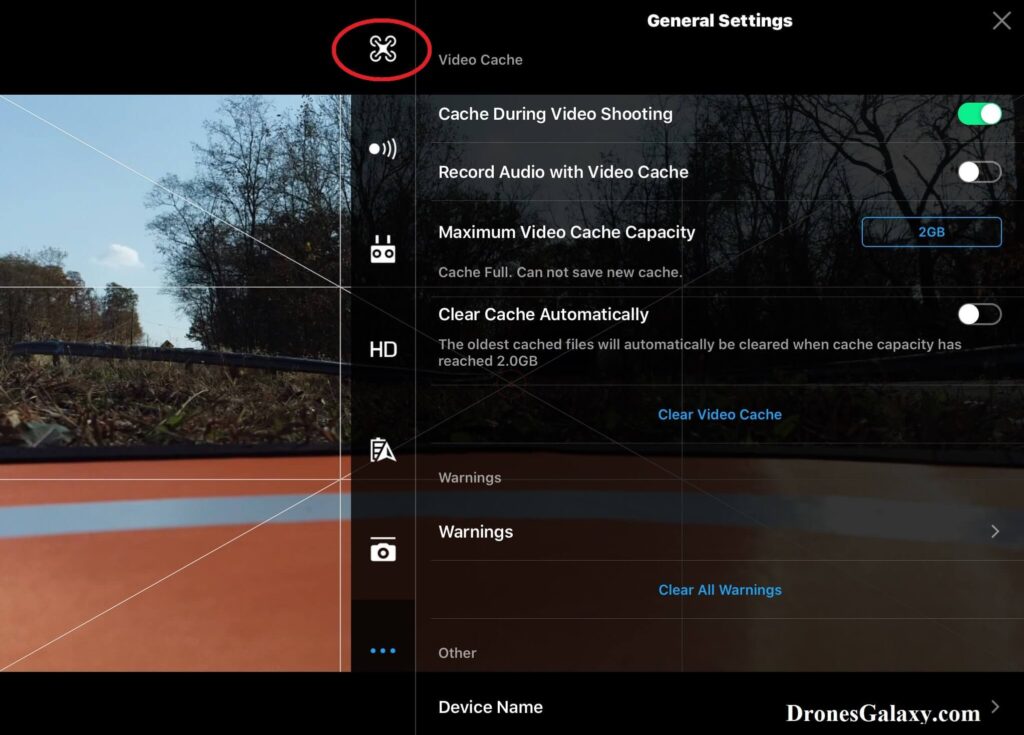 4. Click the toggle switch for Multiple Flight Modes to turn it on.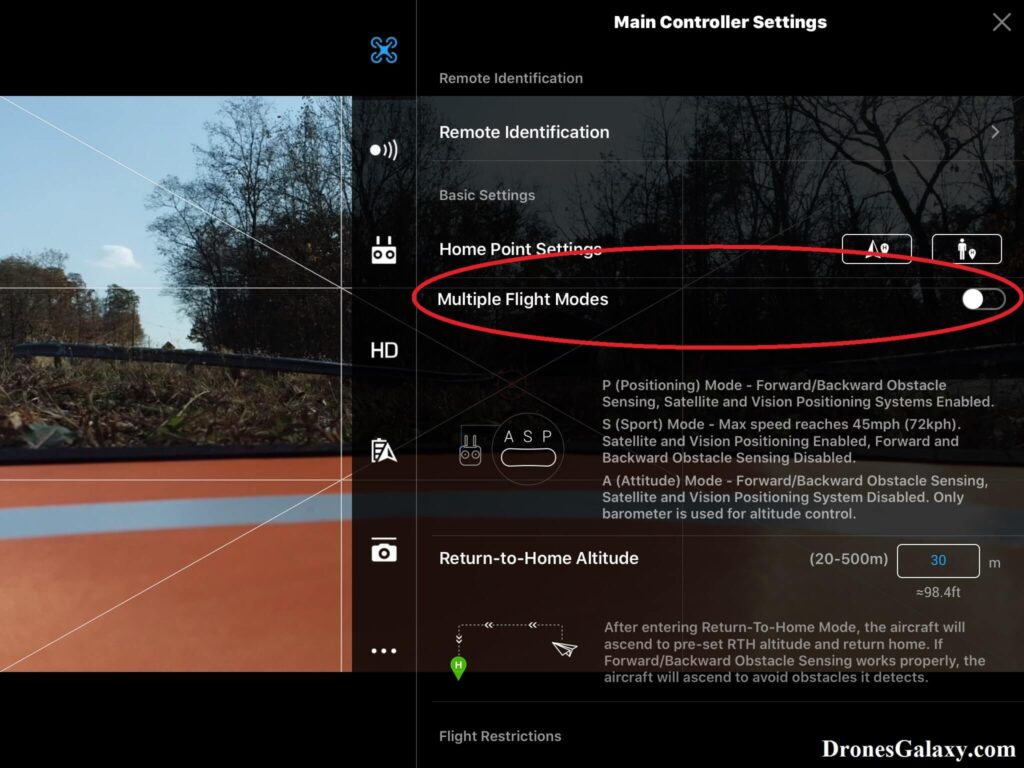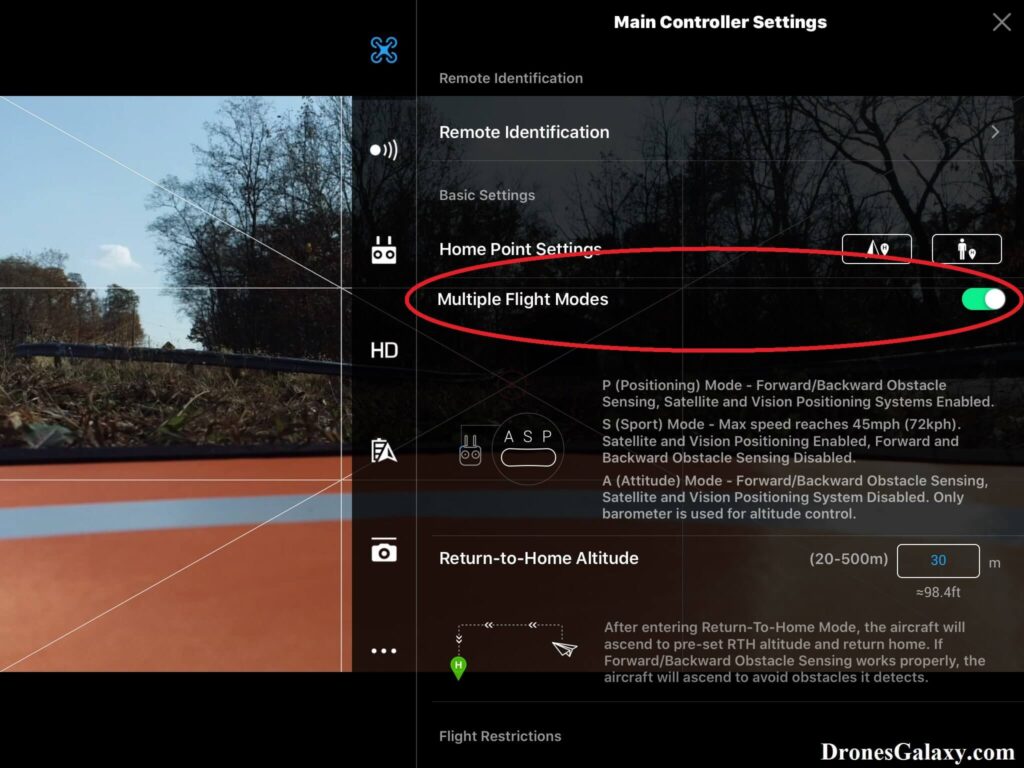 5. Use the switch on the side of your controller to change to from P (Positioning) Mode to S (Sport) Mode or A (Attitude) Mode.
After changing to a different mode than P (Positioning) Mode, the text next to the drone icon at the top will change from GPS to Sport or Atti.

Conclusion
Every DJI drone owner should know the difference between the three standard flight modes and when to use them. To use sport mode and atti mode, multiple flight modes need to be enabled in the DJI GO app and then the mode needs to be selected on the transmitter.
For information about Beginner Mode check out this post.
---
Here are some more articles you may be interested in:
Review Of KINBON Drone Landing Pad
Review Of Smatree Phantom 4 Battery Charging Hub
Six Simple Accessories To Improve Aerial Photo/Video Flights