This page contains affiliate links to Amazon. As an Amazon Associate I earn from qualifying purchases.
DJI series drones like the Inspire, Phantom, or Mavic have a color setting in the DJI GO app. This is known as the color profile or color mode that is a digital filter that can be applied to aerial photos or videos.
The selected color profile is NOT applied to RAW photos.
DJI has changed the names of the color profiles available multiple times. The color profiles available can vary depending on the specific model and firmware version of the DJI drone. The current color profiles available for the DJI Phantom 4 Pro V2 for photos are:
D-Log: This is a flat color profile designed for capturing video footage with increased dynamic range, preserving more details in shadows and highlights. This profile is used by professionals that will make updates in post-processing and color grading.
D-Cinelike: This color profile is similar to D-Log because it is generally used by professionals that will make updates in post-processing and color grading. However, it will be more visually appealing than D-Log before making post-processing updates.
Normal: This is the default setting.
TruColor
Art
Film
B&W: This is for black and white photos.
Cool
Twilight
Pale
OldPhoto
Warm
Blue
Blockbuster
Steps To Change Color Setting
The following steps were written using the DJI Phantom 4 Pro V2. The other DJI drones like the Inspire or Mavic series will have the same or similar steps.
Open the DJI GO 4 app.
If needed switch to photo mode. If the icon above the shutter button is a video camera, then click the icon. When in photo mode the icon will be a photo camera instead of a video camera.
Tap the camera settings button under the shutter button. It is highlighted with a red circle in the image below.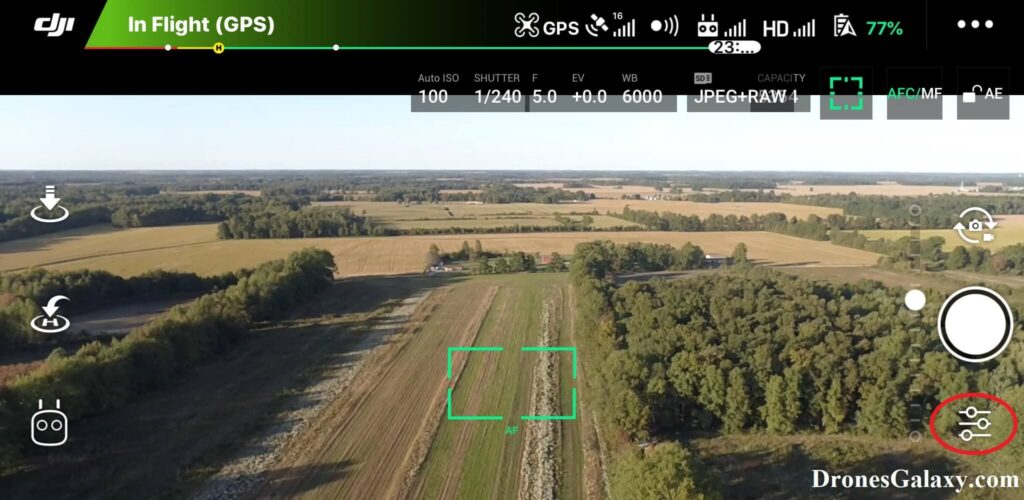 4. The camera settings menu will open. Click the camera icon in the middle.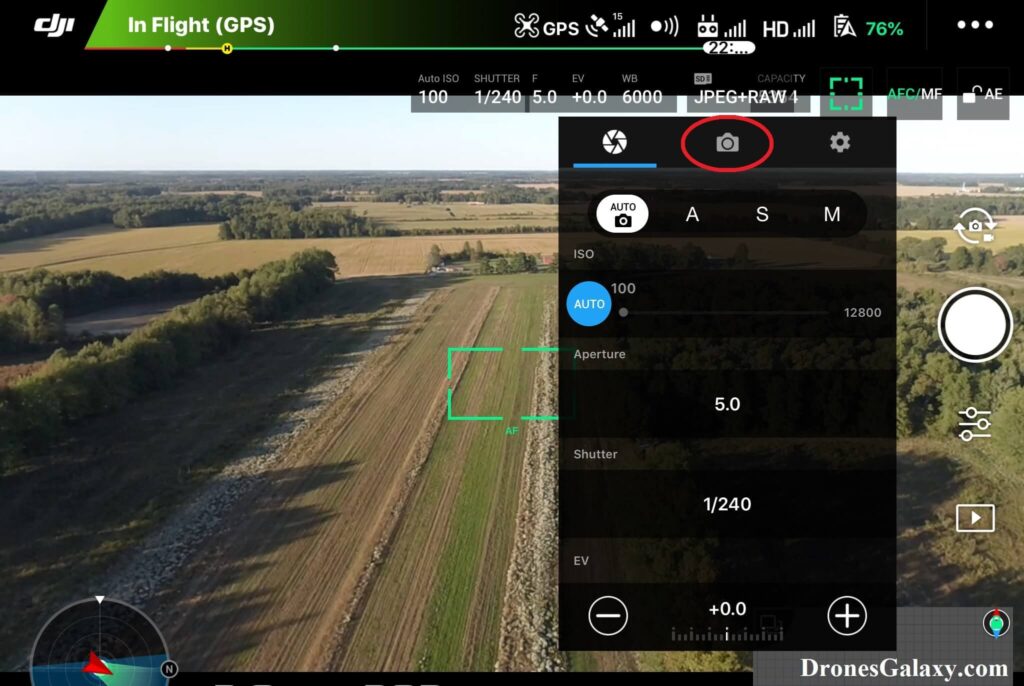 5. Tap Color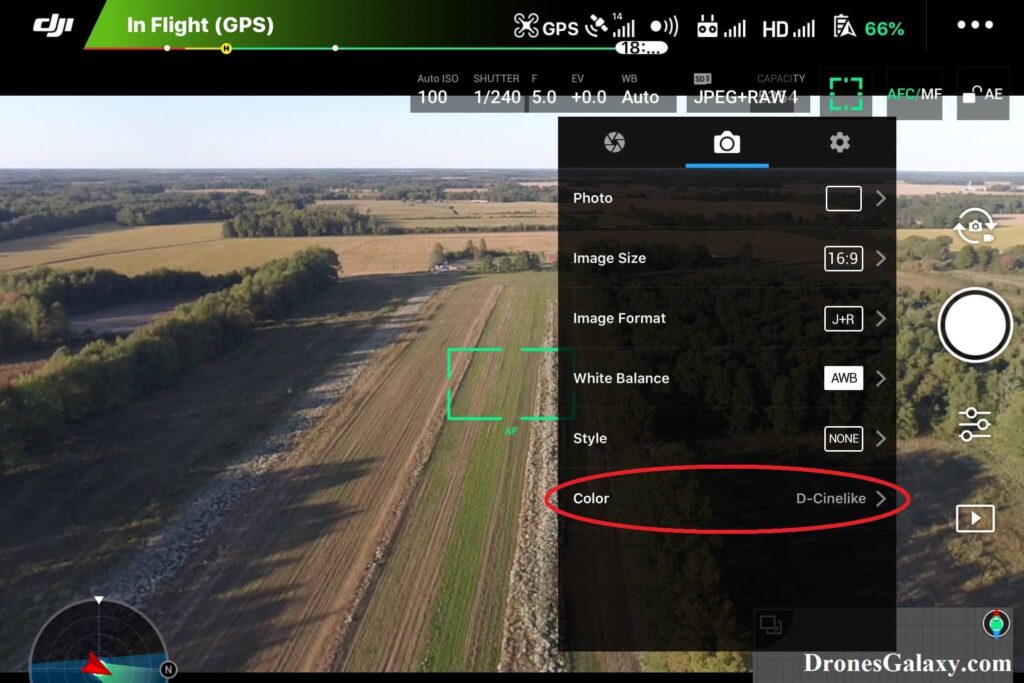 6. Select one of the color options. The screenshots below show the differences when each of the color options are selected.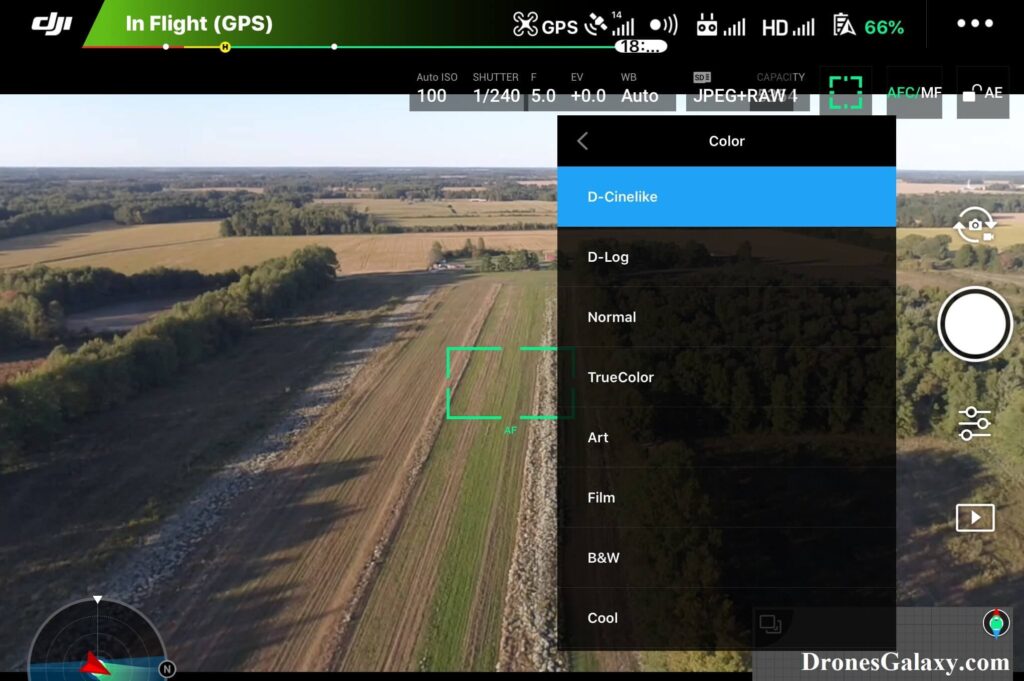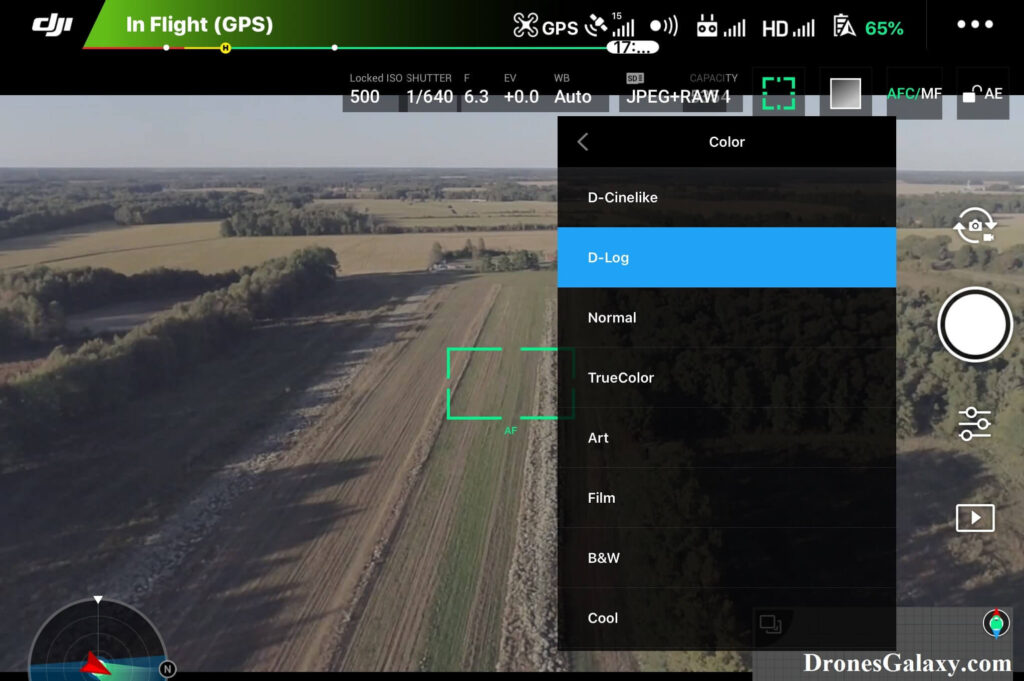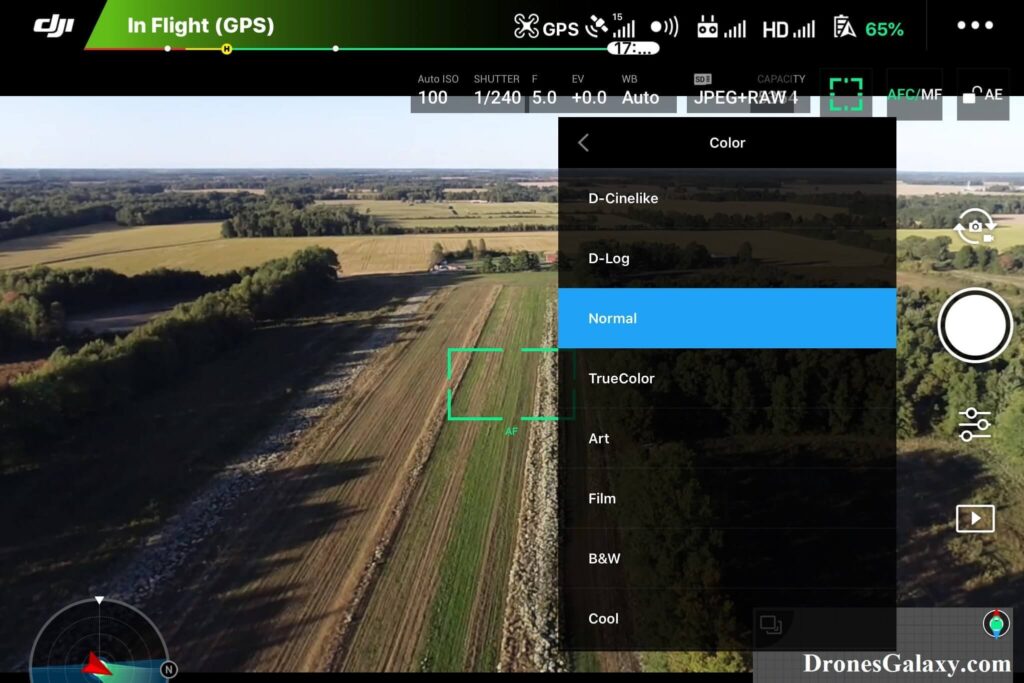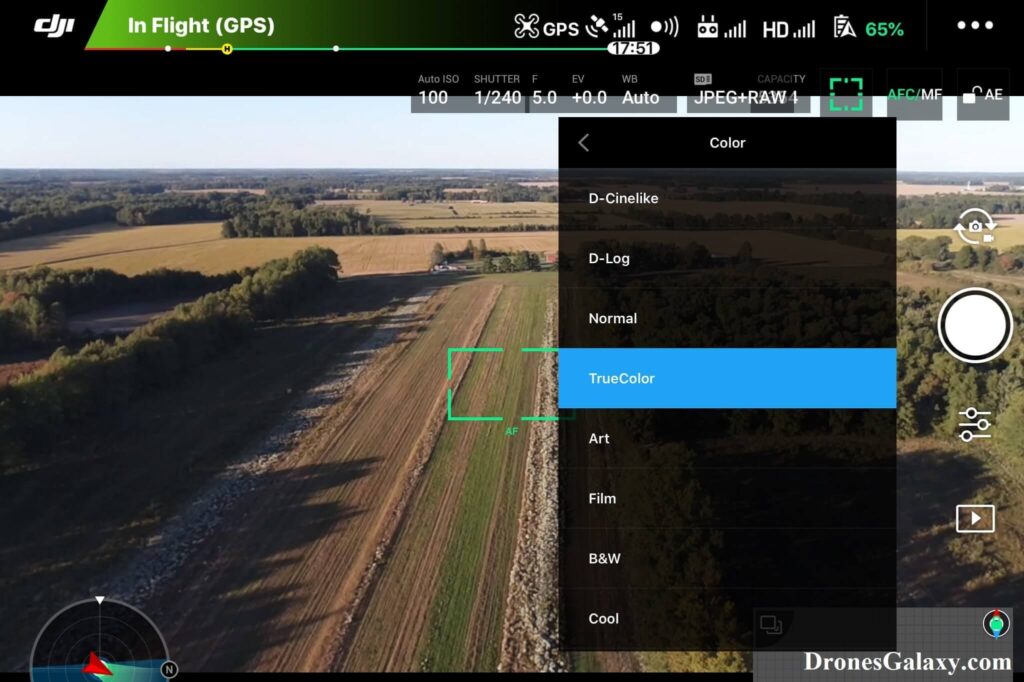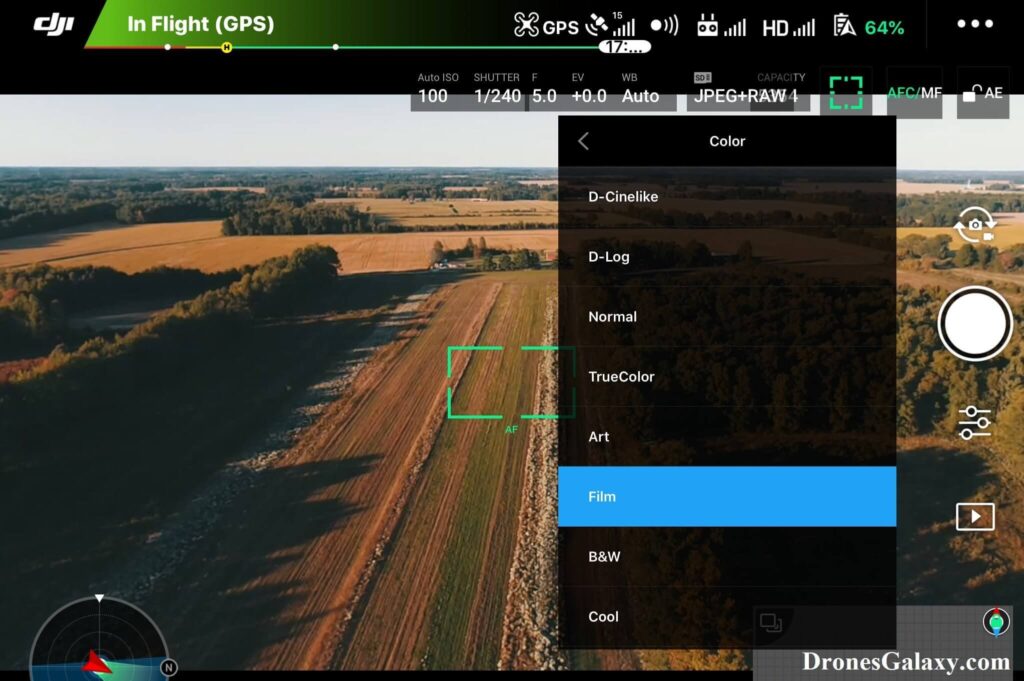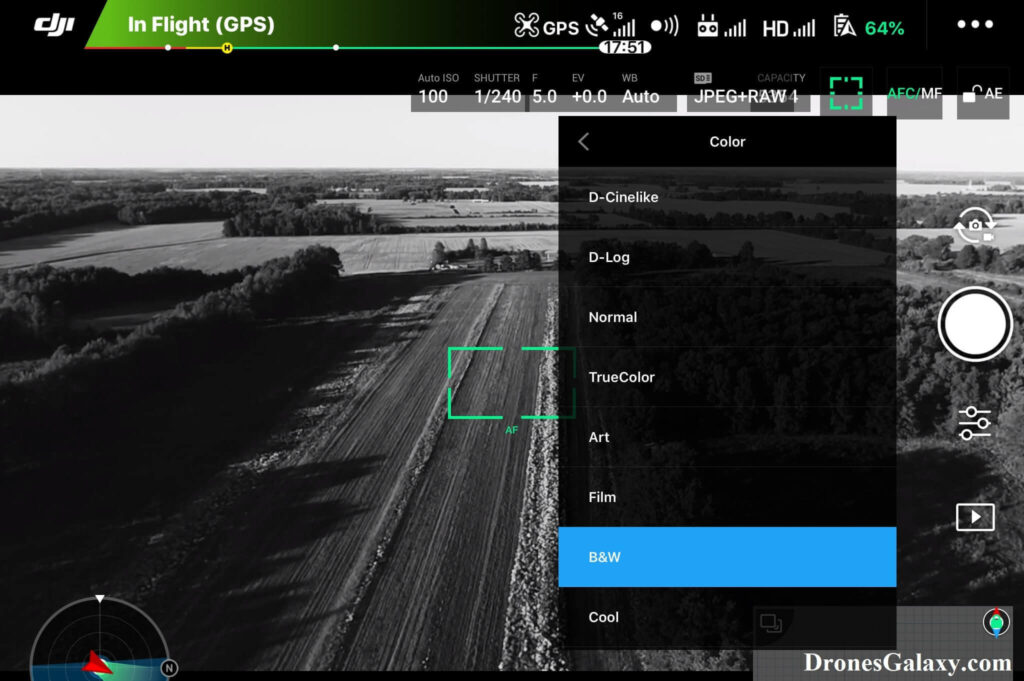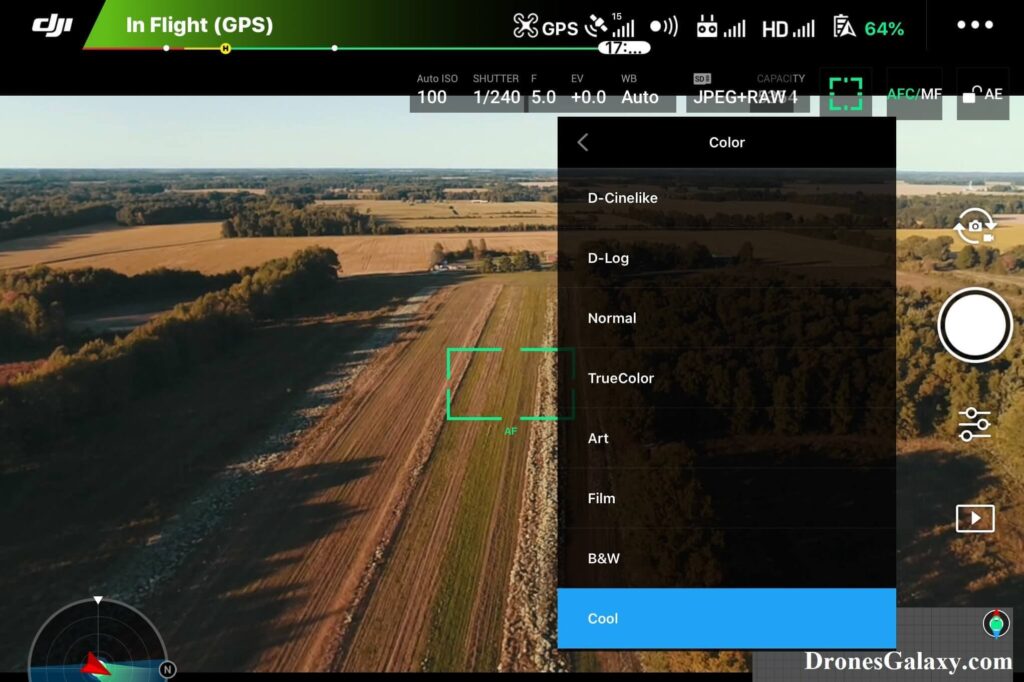 Conclusion
The color profile/mode is like a digital filter that applies different settings that change the appearance of videos or photos. The above steps can be used to update a DJI drone's photo or video color profile.
---
Here are some other articles you may be interested in:
Review Of Smatree Phantom 4 Battery Charging Hub
DJI Drones – How To Update File Index Mode – Continuous VS Reset